Let There be Lighting!
I remember years ago we were directing a wedding at Bay 7 in Durham and the bride was talking about her 'lighting guy' She was listing off the different types of lights that she had ordered such as pin spots for the centerpieces, Up lighting, and Down Wash. I remember thinking why would anyone spend THAT amount of money on just lights....well on the day of the wedding those questions were answered....because it looks AMAZING....that's why!! Now whenever the budget can accommodate it we try to suggest a lighting package. It really sets the mood and tone for an event and can transform even the most mundane of spaces.
A cocoon of pink....lighting can change the color of a room.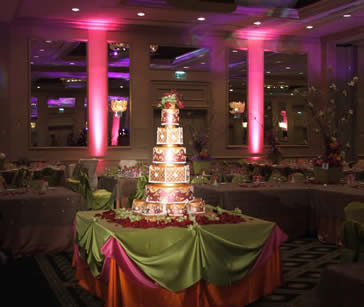 Cake Lighting (they focus a pin spot on just the cake)
A monogram on the dance floor all done with lighting.
This is an example of extreme up wash and pin spotting.

You can see that the lighting can really change a space! Pictures don't really do it justice, it is more about the feeling that you have when you are in the space....it can really be amazing!